$2.5 Million Settlement Reached in Abuse Case
PASADENA. CA (PRWEB) APRIL 19, 2017
According to court documents, a father and son (plaintiffs) sued the Pasadena Unified School District, alleging that minor Plaintiff E.D., then eight years old, was repeatedly sexually assaulted during an after-school program by a teenager with a record of allegedly sexually abusing young boys. The plaintiffs were represented by the law firm of Vincent W. Davis & Associates. Vincent W. Davis acted as lead counsel supported by his team of attorneys consisting of Aihui Su, Mark Massey and Joyce Komanapalli who, according to court documents, brought claims for negligence, as well as failure to supervise and protect, alleging that the School District was repeatedly warned by psychologists and the assailant's own mother that the assailant had a history of engaging in sexual abuse and posed an imminent threat to other students. The court documents further describe that the father and son also brought claims against the School District for slander, alleging that the District attempted to shift blame by falsely reporting to Child Protective Services that the father was responsible for failing to protect his son from abuse.
Court documents further describe that the Pasadena Unified School District asserted cross-claims against the independent contractor hired to supervise the after-school program, as well as various government agencies in charge of the assailant's probation and school placement, alleging that they shared liability for allowing the assailant to be placed in a school within the District.
According to court documents, on the eve of trial, all parties agreed to a global settlement of $2.5 million dollars.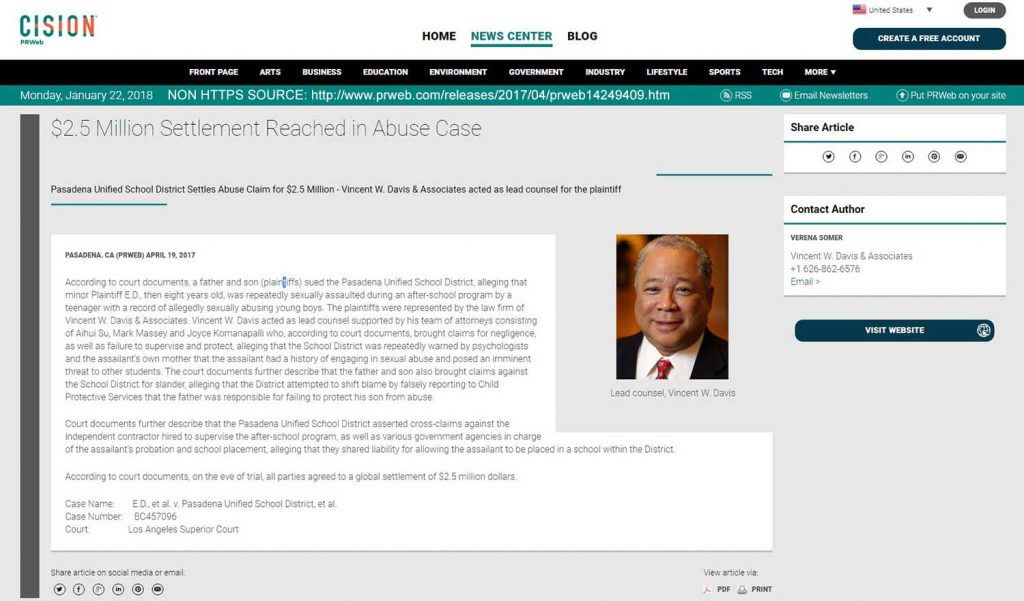 ---
When you talk to me, Vincent W. Davis, you can be sure of one thing, that I am listening. Child Protective Services (CPS or DCFS) and your accusers have their story, and it is our job to make sure that your story is heard and we keep your family together. If your kids or grand-kids have already been taken, we will find the best and fastest way to reunite your family.
Call me personally - 888-888-6582 - I am waiting to hear your story now, to defend you and keep your family together or reunite you and your precious loved ones.
We Are Your Juvenile Dependency Lawyers
and we are proud to serve   
Los Angeles
,  
Orange
,  
Riverside
,  
San Bernardino
,
Ventura
, and  
San Diego
Counties.
Email: v.davis@vincentwdavis.com
---
Where We Can Meet You - Contact a Juvenile Dependency Attorney Now

Arcadia Office
150 N. Santa Anita Ave,
Suite 200
Arcadia, CA 91006
Phone: (888) 888-6582
Fax: (626)-446-6454
Beverly Hills Office
9465 Wilshire Blvd.
Suite 300
Beverly Hills, CA 90212
Phone: (888) 888-6582
La Mirada Office
Cerritos Towne Center
17777 Center Court Drive ,
Suite 600
Cerritos, California, 90703
Phone: (888) 888-6582

Los Angeles Office
Gas Company Tower
555 West Fifth Street,
31st Floor
Los Angeles, California, 90013
Phone: (888) 888-6582
Long Beach Office
Landmark Square
111 West Ocean Blvd.,
Suite 400
Long beach, California, 90802
Phone: (888) 888-6582

Irvine Office
Oracle Tower
17901 Von Karman Avenue,
Suite 600
Irvine, California, 92614
Phone: (888) 888-6582
Fax: (949)-203-3972
Ontario Office
Lakeshore Center
3281 E. Guasti Road,
7th Floor
City of Ontario, California, 91761
Phone:(888) 888-6582
Riverside Office
Turner Riverwalk
11801 Pierce Street,
Suite 200
Riverside, California, 92505
Phone: (888) 888-6582
San Diego
Emerald Plaza
402 West Broadway,
Suite #400
San Diego, California, 92101
Phone: (888) 888-6582
Aliso Viejo
Ladera Corporate Terrace
999 Corporate Drive,
Suite 100
Ladera Ranch, California, 92694
Phone: (888) 888-6582