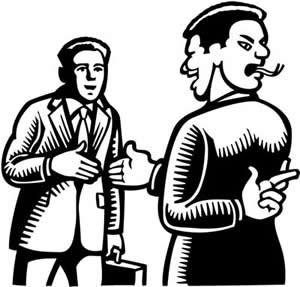 We don't want to come off as being cynical – but experience from literally hundreds of combined years of practicing law tells us that law enforcement (think police detectives), CPS investigators and CPS/DCFS Social Workers will sometimes pretend to help you, when what they are really doing –with YOUR help– is using you and your inadvertent words to build a strong case against you. It is tragic!
Sure, there are some honest CPS Investigators – and Government-Employed Social Workers who truly care about children and their parents and want to help people that are find themself under the intense focus of powerful County Government agencies.
That said, can you really gamble that the investigators who are studying you like a lab rat are going to take your word, your denial –your story– over some accusation –often from an anonymous source? Are you going to chance that you got a GOOD CPS Social Worker / Investigator when your child/ren can be taken away from you because of one person's decision?
---
Social Workers will Often Show With a Cop in Tow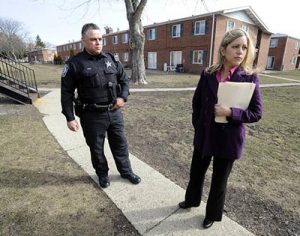 A County Social Worker or CPS Investigator might knock on your door without any warning or appointment. A regular occurrence is that female CPS employees will ask a police officer to accompany them. Some claim it is for protection, but most understand it is an intimidation technique. Both are employed by the government. Showing up with a cop makes the visit seem MORE important, MORE scary and certainly MORE intimidating than it should be. If neighbors are out, the visit can also be extremely embarrassing.
These tactics, while effective, do NOT mean that you must invite them into your home – often their mission. Unfortunately, they usually do get the desired result using 2 powerful government officials vs. 1 surprised mom or dad — the Social worker with a badge and a clipboard, the cop with a uniform, a badge, a gun and a radio: exuding even more POWER. Admittedly, IT IS pretty impressive!
As Child Dependency attorneys, we WHOLEHEARTEDLY RECOMMEND that you to error on the side of being suspicious and cynical. Moreover, we STRONGLY ADVISE you to get an experienced attorney on your team IMMEDIATELY – certainly before you agree to speak to, meet with, allow your child to be interviewed by or agree to invite one or more government investigators into your home.
---
The Stories we Hear –Daily– Would Frighten You!
When parents run into the CPS/DCFS investigators and Social Services Case Workers who are out to get them, the shocked parents will sometimes CHAT with us, call us come in and sit down with us for to share their heart breaking stories. We estimate that 80% of these devastated parents ask us: "What about my rights?" or "I have Constitutional Rights – don't I?"
Your Rights… How can we answer that in a practical world – where government agencies are becoming more and more powerful every year, and a mere citizen is just a bump in the road to be squashed? If you paid attention in high a school civics or government class, you might have heard about the "Rights of the Individual." Your teacher might have told you that "all citizens have certain inalienable rights," but how does that mental exercise get your kids back when these government employees are steam rolling you like a discarded cigarette butt and there's not one single person in or out of government interested in your dilemma?
These Child Protective Services agencies have the POWER and deep pockets of the GOVERNMENT behind them and you are just a mere powerless individual. If you are a young parent and have yet to have much interaction with the IRS, ask an older sibling or your parents if they are SCARED of the IRS? DAMN RIGHT THEY ARE! Why? Becasue the IRS is one of those government agencies that can SQUASH you; even put you in prison, should you not pay the taxes you owe.
For a parent, the IRS is just a big nasty accounting agency that should absolutely be respected – to be sure. BUT CONSIDER – Please. As a parent… Child Protective Services CAN TAKE YOUR KIDS FROM YOU. Even if a bad apple employee gets it wrong, or a social worker decides they don't like you. They can take your kids from you FOREVER! They can (and regularly do) turn children over to strangers who often legally adopt them. Think about that…
If you have millions of dollars, you can hire a team pf powerful lawyers to PROVE that you have the rights you heard about in high school. And if your team of lawyers WIN a battle or two on your behalf, you can proudly tell your friends and family: "See! I told you I have rights!" Unfortunately, until you prevail in a court of law, does any mere citizen have the rights necessary to get your kids back, to STOP the government from endlessly harassing you? Will those lofty ideals about "rights" get the social worker, the county agency or a judge to return your child/ren? We have some sad news. It is far BETTER TO BE PROACTIVE and on DEFENSE from the moment you come into contact with ANY Government agency — especially those with the power of CPS or DCFS. Once they get hold of your children, or have you in their cross-hairs, it can be a depressing, humiliating, soul-destroying time and an uphill battle to fight back.
---
Aren't there Laws About Taking My Kids?
There ARE rules, procedures, and laws that set forth restrictions against taking your children children. If you have a lawyer at your side from the beginning, you can learn how to take advantage of your rights –and the government's limitations; you can better protect yourself from loosing the whole battle in the first few encounters. If you are one of the many that think that the government agents are "helping you," when in fact they are not, every time you agree to talk to them, make your kids available to them, get a home inspection by them, take an alcohol or drug test by them (or their suggested medical vendors) — EVERY TIME you agree to to interact with CPS/DCFS without legal counsel or legal advice, you might be helping them build a rock-solid case against you that you will dread for years or a lifetime.
Don't Crooked, Deceptive, Lying Government Workers ever get Disciplined?
Unfortunately, they are rarely held to be accountable. Every few years, a case will go against the County CPS worker and the agency, a huge fine is levied and paid (using your tax dollars to pay the fine) and things seem to continue without any serious oversight.
Fight for Your Civil Rights –or– Fight to Get Your Kids Back?
Your rights were violated. You are mad. But do you fight the government to prove your civil rights were ignored, or do you focus on getting your kids back and a cessation of CPS harassing you? Unless your Donald Trump, we often suggest that we fight the small battles. Let's get your kids home. Then if you want to continue to fight, you can choose to do that if you have a large enough bankroll, or the evidence is so overwhelming, documentable and egregious, a firm like our might chose to help you fund a legal battle over civil rights and government abuse.
---